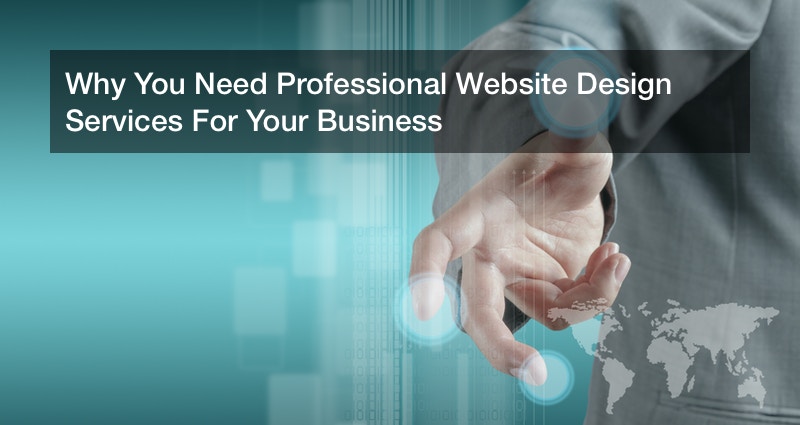 Regardless of the industry that you are in, your business can benefit from expert website design services. Today, just about everyone is searching for products and services online. It is estimated that about 97% of smartphone users have initiated a search on their smartphone in the last 6 months looking for a local product or service.
There is no such thing as a business that cannot benefit from having a professional website design to reach its audience. A website is a foundation for all your marketing regardless of whether it is to boost organic search rankings or for print ads.
Let's Look At The Numbers
A lot of businesses think that it is not as important for them to have a website as it would be a business that is involved in eCommerce, but that can be a critical error. Every business can benefit from taking advantage of customized website design services.
Getting familiar with the statistics can help. Let's say you are a dentist. Understanding dental marketing statistics can help you to see the importance in having the right web design agency create a custom website for your practice. Here are some dental marketing statistics to keep in mind:
73% of consumers have found their dentist through an online search.
72% of Invisalign aligners users report they watched a video on a dental website to make a decision.
60% of local searchers made an appointment to see the dentist within 24 hours of the search.
The way we do business now has changed. The internet has replaced the word of mouth referrals that used to drive patients to your practice. Your website is what draws new patients to your practice. Having a well-designed website that is informative, visually stunning and easy for guests to navigate can be a game-changer for your practice.
So you are not a dentist you are a law firm. Do you think that the magic of the internet cannot help your practice? Think again. Here are some statistics you need to know about law firm marketing online:
81% of respondents to the question "how did you hear about your lawyer?" responded they found their lawyer online.
48% of clients report that they did an internet search on the law firm they choose to read reviews.
88% of local searches for an attorney resulted in contact within 24 hours.
The statistics paint a picture of how people are shopping for services and what they expect to find when they plug in that search term. A high percentage of respondents report that if a law firm does not have a website that they would not feel comfortable contacting the law firm.
Of course, it is important to have a website so that people can find your law firm but that is not the only value having a state of the art website is important. Consumers that are looking for your service are able to easily contact you through your website.
Many law firms are jumping on the bandwagon with online consultations. Instead of blocking off an hour of your time for meetings, you can manage your consultations right online. It is convenient for you and convenient for potential clients. It can also help to keep the meeting highly focused.
Why You Need a Mobile Friendly Website
It is not enough to have just a website, you need to have a responsive mobile friendly website. What does responsive and mobile friendly mean? It means visitors have the same great experience no matter how they are accessing your website.
More people than ever are depending on mobile devices to access the internet. Smartphones, tablets, even gaming devices are being used instead of laptops and desktops. People want answers on the go.
For example, a user may type in the "best movers near me" and Google will return the top three picks based on geolocation and keyword hits. When your website is returned you want the user to have a full experience when they are using their smartphone and here is why:
45% of all searches are initiated with a smartphone.
Local searches are typically done by consumers ready to make a purchase now.
You have 10 seconds to make the right impression.
Studies have shown that users will navigate away from a website and move on to the competition when a website doesn't load right away or when the website does not "look right" on their mobile device. People that are using their smartphones to search for local businesses whether it is 24/7 urgent care or it is a moving business are in a hurry and they do not have time to figure out what is wrong with your website.
Another study has shown that you have about 10 seconds to make the right impression before your visitor heads elsewhere to be impressed. That means that your website needs to be well designed and it needs to look great across all mediums.
The right website design services deliver the results that you need to help elevate your business. The need for responsive web design is true regardless of your industry. Emergency care, dentists, lawyers, party rental companies, eCommerce sites, every single industry needs professional website design services to succeed in today's market.
What is the Worse that Could Happen?
Let's say that you have a hard time believing that consumers are searching for your business online. Let's say that you have such a niche business that you are positive that no one is looking for your business online.
All you have to do is take a look at some statistics to understand what you could be contending with if you do not have a website. Here they are:
Without an online presence the chances of your business showing up as a local search result (SERP) and being near the top three or in the top three, is very low. That, of course, means that potential customers won't find your business. Remember those smartphone users that are doing searches while they are ready to buy? They won't find you.
A whopping 90% of consumers report that they look to the internet to learn more about a business before doing business with them. If you do not have a website they cannot find you which means you create an instant trust issue with potential leads.
You do not get to control the narrative.
One of the biggest reasons to have a website is because consumers expect that you will. Even consumers that know about your business want to know more before they commit to doing business with you.
The fact is if consumers are searching for your products or services and they are using the most familiar mode (the internet) and they do not find your business, they will simply go to your competitors. The power that the internet has on buyers is tremendous.
For example, 66% of consumers report that they made a purchase based on something they saw on social media that linked to a website. If you do not have a website, you likely lost the sale. You have to be able to be where your audience is looking.
The sad truth is even if your competitor really cannot compete with your service or products, if they have an outstanding website and you do not, they will beat you every time. They will gain the business that you lose.
Controlling the Narrative
Another really good reason to enlist the help of website design services is to control the narrative about your business. Establishing authority and trust through a website are two very important factors in building a successful business.
Your website is your business introduction to clients, customers, and other businesses. It delivers the information that people need to make buying decisions. It is your first handshake with a lead and can engage them.
Think of your website as the door to door salesman of old except it is the customers coming to you and knocking on your door. How that door opens and what information is revealed can help to close the deal.
With the right website design services you can have the custom website that is unique to your business that conveys your corporate culture, your commitment to your client base and gives consumers the information that they need to make the right choice about your business.
A professionally designed website helps you to control the narrative about your business and helps to promote the image that you want to promote. It gives you branding control and gets your business recognized for the right reasons.
Your Businesses Online Presence
Word of mouth is a thing of the past right? Or is it? The answer is it is not. It is just different today. Years ago the Yellow Pages a giant print book that contained regional phone numbers for small businesses is how consumers found service providers and products that they need. Today, Google, Bing and other search engines do the same thing.
Instead of print ads, the landing page of your website is what provides information to leads. Instead of neighbors telling neighbors, social media does the recommending. While the tools have changed the idea is still the same. You want other websites to link to you and recommend you, you want people on social media to send friends to your website. The internet is the 21st centuries form of word of mouth advertising.
The potential to reach a much wider audience than ever before is very real. Even a small locally owned business can benefit from a worldwide audience. A global audience is waiting to hear about your products and services, your corporate culture, your business story. You must have an online presence to reach that wide audience.
The ROI Can Be Tremendous
The real beauty of working with professional website design services is the ROI that you get. Professionally designed web services are an investment that just keeps generating revenue. You can easily see an 800% return on your website. Read that again 800%.
Between lead generations, conversions, developing long term loyal relationships with your customer base and establishing trust and authority in your industry the payback is tremendous. It is rare that you can invest in a process that can continue to provide returns on that process for years to come.
Even when you tally up things like SEO content support, upgrades, web maintenance and other services, the fact is it is still one of the best investments you can make with one of the highest potential returns for your business.
What Are You Waiting For?
Whether you are a brand new business or an established business you need a website. When do you need a website? Yesterday. Many startups launch their website in anticipation of their business launch to get people interested in the coming business.
Professional website design services should be a part of your plans. It ultimately can be the most important part of your business plan. And if you are asking why you need a mobile friendly website, you need to communicate with an experienced SEO firm immediately.
If you have any type of business in any type of industry you need a website and you need it now. Get the support of website design services that can personalize your website to fit your business perfectly. It will change how you do business.
Give your business every opportunity to succeed by tapping into the potential of creating an online presence for your business with website design services. If you do not it will be hard to stay competitive no matter who your competition is or what industry you are in.