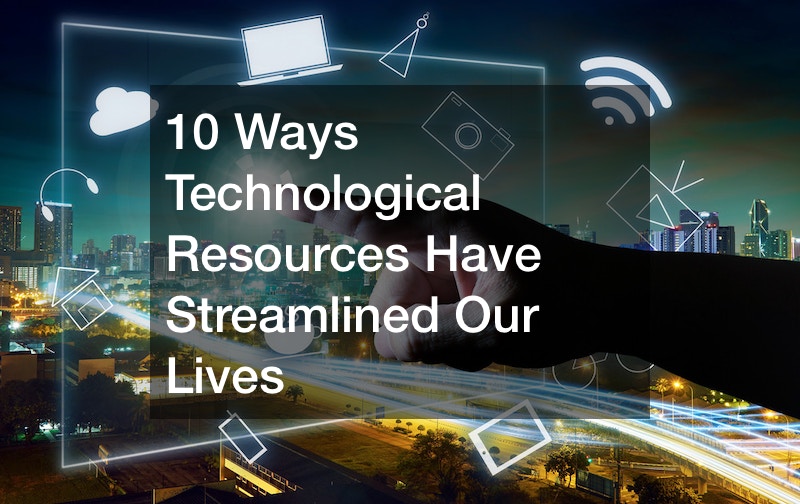 Technology has advanced drastically over the past decade positively. Its advancement has allowed most people to make their lives easier and save time and money on certain tasks. It has also brought many people together to communicate and collaborate on a large scale. Entire families have been brought together for the holidays because of the latest technology.
Sometimes we don't realize how far we've come as a society because of it. This piece will serve as a reminder. The following are ten ways technological resources have streamlined our lives.
1. Scheduling Appointments
First, let's look at scheduling appointments and how technological resources have made them much easier. Before calendar apps, appointment reminders, and virtual personal assistants came about, people had to rely on paper calendars, scribbled written lists, and alarm clocks. These were the only options available or keeping their appointments in order.
Sure, many survived and made it to their appointments on time using those methods. However, they can now keep their dates and appointments much more organized and together in one place. Calendars can be integrated with email accounts, and both can be accessed from a user's mobile phone or tablet device.
Technological resources haven't just helped improve regular people's lives. They've also helped immensely in the professional and medical fields. CRM and healthcare software make it easy for businesses and clinic administrators to keep track of their patients and clients. The software is capable of helping those clients to schedule, edit, and cancel their appointments, too.
The software can also send reminders to patients so that receptionists don't have to make so many phone calls. Furthermore, this advanced software can keep all the information confidential and ensure the establishment abides by HIPAA laws and confidentiality principles. All such features are blessings to individuals in professional fields.
2. Making Video Calls
The ability to call and video chat with others has streamlined many processes. It even helps with romantic and familial relationships, friendships, and school-age buddy groups. Before video chat was available, people had to rely on voice calls and snail mail to keep in touch when someone was far away. Now, they set up a video call and speak to their loved ones as if they are right there with them. It's very comforting when people can't be together and even helps some relationships stay intact.
Video chat also achieves great things in the professional world. Car crash victims who need an accident attorney can now schedule and conduct their consultations on video chat. Neither the lawyer nor the client has to burn gas to hold the meeting, so no money is lost for either party.
Medical professionals and therapists also use video chat features to care for their patients. Many employers offer their workers benefits, allowing them to connect with doctors and receive advice and prescriptions over video chat services. Furthermore, many courts are starting to have video chat hearings that allow participants to attend their proceedings while at home. The feature is well-received in non-criminal cases, and family court matters. Thus, these technological resources have lifted burdens for many people.
3. Calling Emergency Services
GPS services are another one of the technological resources that has blessed the entire nation. These location services have made traveling to unchartered areas and navigating new jobs and special appointments much more convenient. GPS services have only gotten more advanced with time, too. They can do so much more now than before and come come up with information on locations 10 times faster.
Drivers no longer have to pull their vehicles over and read a map by the dome light. They also don't have to worry about getting into an accident and being stranded for hours. They can get help and receive emergency towing because of the GPS systems integrated into their vehicle's computer system. Thus, GPS services are notable members of the top technological resources list.
Of course, not everyone uses technological resources for the good of humanity. Some people use them to track their loved ones or find people who don't want to be found. However, GPS services have been a positive influence overall.
4. Researching Online
The search engines are additional technological advances that have streamlined things for people worldwide. They have made it so students and research specialists no longer have to take a long trip to the nearest library for an academic paper or article. Instead, they can find reputable reference materials by performing a convenient search engine search.
Let's not forget how search engines have helped shoppers. Shoppers can now compare items using a mouse click instead of having to drive to several stores and write down the price of the items they're interested in. Coupons and promotional codes are also available through online searches, and they can use them during their online checkout experience. That's awesome.
Even finding an injury attorney for One's case is simplified by search engines. An injured person can find a complete list of available attorneys by typing the keyword 'injury attorney' and their city of residence in the search engine. The search engine will then provide a lengthy list of numerous options from which they can select the most suitable provider. There's hardly much use for phone books, though they still make reliable backups.
5. Organizing Personal Finances
Personal finances have also become much easier and more streamlined due to technological resources. For example, software developers offer many budgeting apps for people who need to keep track of their income and expenses. These budgeting apps often contain additional features integrated into the programs.
Filing for bankruptcy has also been made a bit easier because of technological advances. Bankruptcy firms can communicate with their clients online with chat features and use bankruptcy software to help them gather the data for bankruptcy forms. The software often has special features that can perform some of the tasks that take the longest to complete. Automatic calculators are just one of the features one might find within such an app.
Technology has even made saving money easier. Money-saving apps can round up people's purchases to the nearest dollar and save their change until it grows into something significant. For example, let's say a user wants to buy something that costs $9.88. A good round-up app will remove $10 from their account and move the extra $.11 to a personal savings account. The amounts are so small the consumers don't miss the funds, but they add up quickly. People who use their debit cards for everything typically benefit from this type of application the most.
6. Buying Cars
Technological resources have even helped auto dealer establishments and people who need to shop for vehicles. The process is so streamlined now that car buyers can review cars, apply for financing, and go through the entire purchasing process from the comfort of their homes. Additionally, the auto dealership can send the vehicle directly to their homes.
Most online auto dealers allow customers to test-drive their new vehicles for at least seven days if they discover something they don't like. They have generous return policies to make up for the inability of those clients to test-drive the cars before they buy them. Many people have successfully obtained new vehicles using such services. Specialized computer programs have also made it much easier for drivers to register their new vehicles, renew their registrations, request copies of their licenses, and enter address changes into the system.
7. Ordering Food
We all need food to survive. Unfortunately, we don't always have access to transportation to and from our local grocery stores. Fortunately, technological resources have made getting the lunch specials and groceries we desire much easier.
All major retailers selling groceries have an online ordering and delivery system. Most offer monthly or annual memberships and give perks to the customers who sign up. Some people receive their items the same day they order them, while others receive them within a few hours.
Restaurants are also in on this new streamlined process of getting foods in the community's mouths. They partner with mobile app developers and third-party organizations to arrange client delivery services. Both regular and contactless delivery options are available. The contactless delivery options blew up during the pandemic and stayed as one of the most widely used methods for people to get the foods they loved.
8. Learning Music
Years ago, anyone who wanted to learn a musical instrument, such as a piano, had to schedule an appointment with a tutor, who would stop by the house. Alternatively, these people would drive to the tutor's home or office to take the lessons. Thanks to technological resources, eager musical students can now learn everything they need to know online. They can meet with tutors over video chat to obtain the skills they need to succeed at playing their instruments. This type of learning often saves people money on gas and time traveling.
Technological resources have also made it easier for people to engage in independent studies. Musical educational courses are online, and students attend their classes leisurely. These distance learning options allow individuals to fit their learning objectives around their family obligations, jobs, and other appointments.
Many people also use a third option to learn about music. They are turning to major video streaming sites and sifting through 'teachers' of all education and experience levels to find those who match their personalities. Every day, more people join those streaming sites and look for people willing to help them hone their skills online. Thus, learning is much more advanced than it was many years ago.
9. Finding Pets
Technological resources have made finding pets easier for seekers and owners. We're using the term 'finding' in two different contexts. The first context is in the sense of looking for a pet to adopt. Many pet adoption agencies exist, and some allow interested persons to browse pets, complete applications, and even arrange for their pets to be shipped to them.
It's not even necessary to visit the actual adoption center in some cases. Photographers take amazing pictures of the pets and display them online in various poses and 'clothing.' Writers craft compelling descriptions and provide information about each pet's life history and personality. The pricing grid is usually on the website, and users can navigate the process from any page.
Technology has also helped owners find a lost pet. Many agencies microchip the pets at no additional cost to the adoptive owners. That way, the agency can track the pet if someone steals it or if it wanders off and gets lost. Pet owners no longer have to suffer from heartache and post their pet's picture on every community light or store wall. Tracking technology can quickly locate those pets.
10. Planning Events
Another area where technological resources have helped humanity is event planning. Communicating with one's clients is made easier through resources such as text messaging and chat programs. Handling the clients' budgets can be done easily, thanks to industry-related financial apps. Finding the right venues for events is easy through comparison tools and price finders. Ordering food for such events is simplified with the above-mentioned mobile apps.
An event planner can easily maintain her affairs with reminder applications and online calendar tools. She can also keep in touch with her clients by using video chat. Technology is a wonderful thing. A wedding reception is an event everyone wants to get right. No one wants to miss anything or choose the wrong setup. That's why taking advantage of technological resources is necessary in this modern world. Technology can easily be used to create personalized and customized wedding reception invitations and RSVP forms. It can also keep track of baby shower registries and like items.
Technological resources are much more beneficial than we've already written, but you can see how much we've evolved with their help. Remember that the next time you start thinking of them as annoyances. Life used to be so much more complicated in the past, but it's more streamlined and stress-free today.