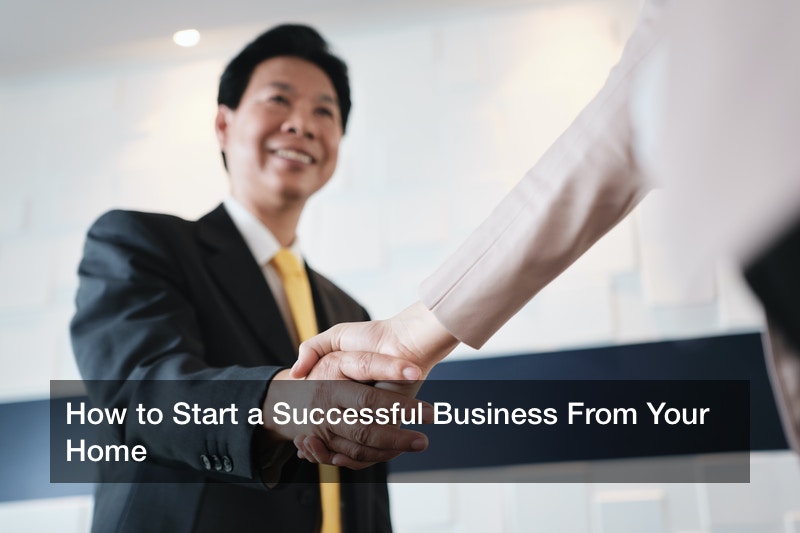 Many people have a dream of becoming an entrepreneur. For some, the first step is to figure out how to start a business from home. After all, plenty of organizations start in residences and scale from there.
Knowing how to start a business from home doesn't have to come naturally to you. In fact, it can be tough to know the right steps to follow to successfully navigate all the ins and outs that come with being your own boss.
If you've been searching high and low for insights on how to start a business from home that isn't the same-old, same-old tips, you've found them here. Below are several key strategies that focus on not just how to start a business from home, but how to do it without making early and avoidable errors along the way.
Create a Business Plan
Hopefully, you've already figured out your field and niche. But you might not have taken the time to write down how you're going to get your business name established and your revenue stream moving along.
Starting a business by creating a rough business plan draft will help you focus on what you need to do to fuel your dream. A business plan doesn't have to be incredibly complex or sophisticated to have merit, either. You may want to jot down your ideas in a Word document or a Google Sheets spreadsheet.
Ideally, your business plan should provide you with a sense of initial direction and motivation. If you're not sure if your plan makes sense, ask a trusted friend, colleague, or family member to give it a once-over.
Consult an Accountant Early in the Process
Talking to an accountant is a no-brainer when it comes to learning how to start a business from home. An accountant will help you save big money in a big way: Providing you with helpful resources on how to arrange your taxes for the coming year.
Being the head of your own business means you may be able to get some serious tax write-offs, but you have to know what you're doing. Even if you plan on filing your taxes yourself, talk with an accountant. Paying a trained professional will help you avoid problems down the road. Plus, you're likely to learn some things that you never knew and could help you keep more of your hard-earned money instead of sending it to the IRS.
Have a Marketing Strategy
As an entrepreneur, you're probably going to do a lot of the sales for your company. Be certain that you think about your marketing tactics, and don't forget that your marketing will need a digital component. Even if you plan to sell your product B2B rather than B2C, you should concentrate on being visible online.
Be sure to create a website, even if it's just a few pages, to begin with. According to statistics, about half of any traffic to your site will come from consumers searching on Google or another search engine. This means you need a good SEO plan in place so you can capture as many organic visitors as you can. If you're feeling as if marketing and advertising on the web is out of your wheelhouse, hook up with a digital marketer. You could save a little money by working with a freelancer rather than an agency, especially if your finances are tight.
In addition to paying attention to your marketing online, you'll want to have some marketing items for offline, too. These could include takeaways, like personalized cards with a unique business card design that includes your logo. Get creative, especially with your non-digital marketing pieces. Why not stand out?
Want to know what separates people who succeed in figuring out how to start a business from home and those who falter? The people who want to make their home businesses take off tend to get mentors.
Business coaching is big business, actually. Coaches are typically folks who have been in your shoes. They've also learned how to start a business from home, and they will have tons of knowledge to share.
A business coach can even play the role of would-be therapist, in a sense. Good business coaches learn what makes you tick, and they help you stay motivated through the ups and downs of owning a company.
Figure Out How You're Going to Stay on Schedule
Speaking of motivation, you're going to have to prepare for the days when you just don't want to get out of bed, or something in your house distracts you. Many entrepreneurs are sidelined by self-sabotaging behaviors and poor working habits.
If you've never worked from your home before, do yourself a favor and read articles and books on the topic. Part of learning how to start a business from home is knowing the right way to remain on track. You'll have to be incredibly self-disciplined. Otherwise, you may end up ruining client relationships or your reputation.
What are some techniques to keep you from slipping into laziness, particularly on those days when it would be so easy to sleep in or just take a four-hour break? You could try a project management app or software portal. Project management tools assist you in spreading out your to-do items while keeping you on track. When used in conjunction with sales software, project management platforms can play the role of your virtual assistant.
You don't need to pay a lot to get great software, either. Many software companies offer their products at refreshingly affordable rates. Snoop around online and see what you can uncover.
Hire a Lawyer
The answer to the question " Do I need a lawyer as part of my determination to learn how to start a business from home?" is "yes" if you plan on setting up an LLC or other type of corporation. Not sure whether you're going to take your organization to that level? Think you might want to establish a non-profit instead? Get a lawyer on your side.
Business lawyers can help keep you out of hot water. They can also provide you with some great counsel. And if you need to decipher some legalese, you'll always know who to call if you have a lawyer saved into your phone.
Sign up for Free Classes Online
You may feel like you're highly educated in your industry, but that doesn't mean you can't learn something new. Nose around the Internet for free classes, workshops, and seminars that might increase your understanding of how to start a business from home, or how to get better in your field.
Some classes will be live and others self-directed. Regardless, keep a record of all the ones you attend over the Internet. Don't forget to add them to your LinkedIn profile if they include certificates or would help establish your credibility with prospects and clients.
Work with a Financial Expert
Even if you're sure that you have all your money issues under control, take time to make an appointment with a financial advisor. A financial advisor will be able to give you insights into how you can save and invest, even though you won't be working for someone else.
Think you might want to hire employees sometime in the future? Your financial expert can eventually let you know about excellent 401(k) and other retirement vehicles and plans for you and your workers.
Join Associations and Groups Related to Your Industry
Practically every industry has a plethora of organizations and associations. Though you won't be expected to join all of them, you should have a presence in some of the bigger or more important ones.
At the same time, don't look the other way when it comes to being a member of a local or community nonprofit, like the Chamber of Commerce. Your membership can be a terrific inroad into meeting people you'd otherwise never know. Even if you don't get any direct sales from your memberships, you can use the relationships you construct as a way to network. Who knows? You might even meet a future employee or business partner at an association function!
Get Your Office in Order
Bet you thought this guide on how to start a business from home would never talk about the actual physical office. But here it is: A mention about the space you'll be working in.
Every at-home entrepreneur needs a dedicated place for all the equipment necessary to start and grow a business in a residence. What belongs in your home office area? Obviously, office furniture like a desk and ergonomic chair. You'll also want a dedicated Internet connection, technological devices, paper, a printer, and any other tools of your trade.
The good news is that because you'll be doing everything from your house or apartment, you can avoid paying an office lease. However, you'll still want to make sure that your home office has a sense of professionalism. Working from the kitchen table might be alright if you're just dabbling, but once you get serious about establishing a brand, you need to up your game.
Create Great Lighting
The world has become a place where teleconferences and calls over FaceTime are an everyday occurrence. This means that your lighting will matter. If you don't have solid business lighting in your home office, go to the nearest home improvement supply retailer and look through the light options.
You may need to contact an electrician to properly install a strong overhead light in your residential office space, but chalk the cost up to doing business. The better your lighting, the better you'll look on video. And that could mean the difference between getting a sale or hearing "no thank you" from a hot prospect.
Get Active on at Least One Social Platform
Maybe you're not the social media type. Perhaps you're all about social media, but mainly for personal reasons. Regardless, you need to focus your social efforts on boosting your branding and messaging.
Choose one social media platform to start your business presence, such as Facebook or LinkedIn. Learn the ins and outs of the social media site, and make it a priority to do everything you can to make your mark in a positive, memorable way. After you feel like you've mastered one social media platform, you can move on to others. However, it's important to recognize that not all social media portals are going to be right for your company.
For instance, TikTok might seem fun and hip, but if you're concentrating your efforts on selling B2B, it probably shouldn't be your priority unless you've thought of an innovative way to utilize it for B2B selling.
Be Prepared to Move Items Into Storage
As you become proficient and understand how to start a business from home, you might notice that you need a little more elbow room. Perhaps you've made a second bedroom a home office, and now have no place to put the furnishings that were in the space when it was a bedroom.
Instead of selling off your unwanted items, you may want to hire a packing service to help you securely wrap them up for storage. You can store anything from mattresses to wooden dressers for a long time, as long as they're in a safe place that's climate-controlled. A hot, dusty attic filled with critters probably isn't going to be conducive to keeping a mattress nice and tidy for long. On the other hand, an inexpensive storage unit could be just the ticket.
Keep Your Day Job for a While
As a final note, you may have the best of intentions when it comes to starting off as an entrepreneur. Nonetheless, be cautious about quitting your day job, if you still have one.
Yes, staying with your current employer may make it hard for you to begin your new business as fast as you'd like. Still, it gives you a nice cushion as you get started. It also allows you to count on a stream of income, not to mention have health insurance coverage for a while.
Numerous entrepreneurs rode with training wheels before taking them off. There's nothing wrong with you being an employee for someone else while you test out your entrepreneurial skill sets by launching an at-home brand that you hope will one day become a household name.